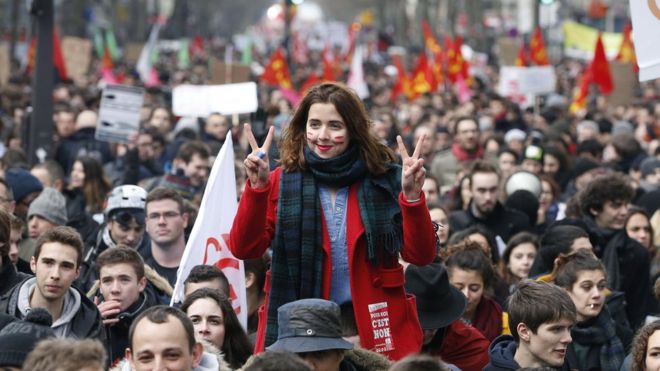 Protests have been held around France as unions and young people joined forces to show their opposition to proposed labour reforms.
Youth organisations and unions were demonstrating on the same day as a rail strike over a wage dispute.
The proposed law would remove some of the protection workers enjoy against being laid off, in a bid to encourage businesses to hire more people.
But many on the left see it as a betrayal of their values.
In pushing the reform, Prime Minister Manuel Valls has united a formidable array of leftist forces against him, says the BBC's Hugh Schofield.
That includes not just the unions but much of his own Socialist party - plus the students, who were leading Wednesday's protests.
Teenagers and students were among thousands marching in Paris chanting slogans such as "El Khomri, you're beat, the youth are in the street", in reference to Labour Minister Myriam el Khomri.
Dozens of schools around the country were barricaded by students.
Maryanne Gicquel, a spokesperson for the FIDL student union, described young people's experience of the job market as "a succession of internships and poorly-paid jobs".
"Now we're being told that it will be easier for companies to lay off workers," she told AP news agency.
This reform has crystallised all those forces on the left who, while feeling increasingly unhappy about the government's drift, until now had no clear-cut issue around which to rally, our correspondent reports.
Like Diamond Report On

Facebook

!
Follow Diamond Report On

Twitter

!
Advertise Your Products And Services With Us At Affordabe Rates!

Click HERE
loading...